The current circumstances related to COVID-19 force us to undergo an entry check before each celebration. You must therefore be registered and identified on our attendance list before you can participate. To do that, we use CoGa.app, supported by the authorities.
During this particular period, we are offering you two celebrations per Sunday, in a form that fully respects the prescriptions of the Swiss authorities. Places for each celebration are limited. An ICF Kids program is organized during the 10:00 am celebration – children's check-in: 9:30 am-9:45am. This celebration is also translated into English .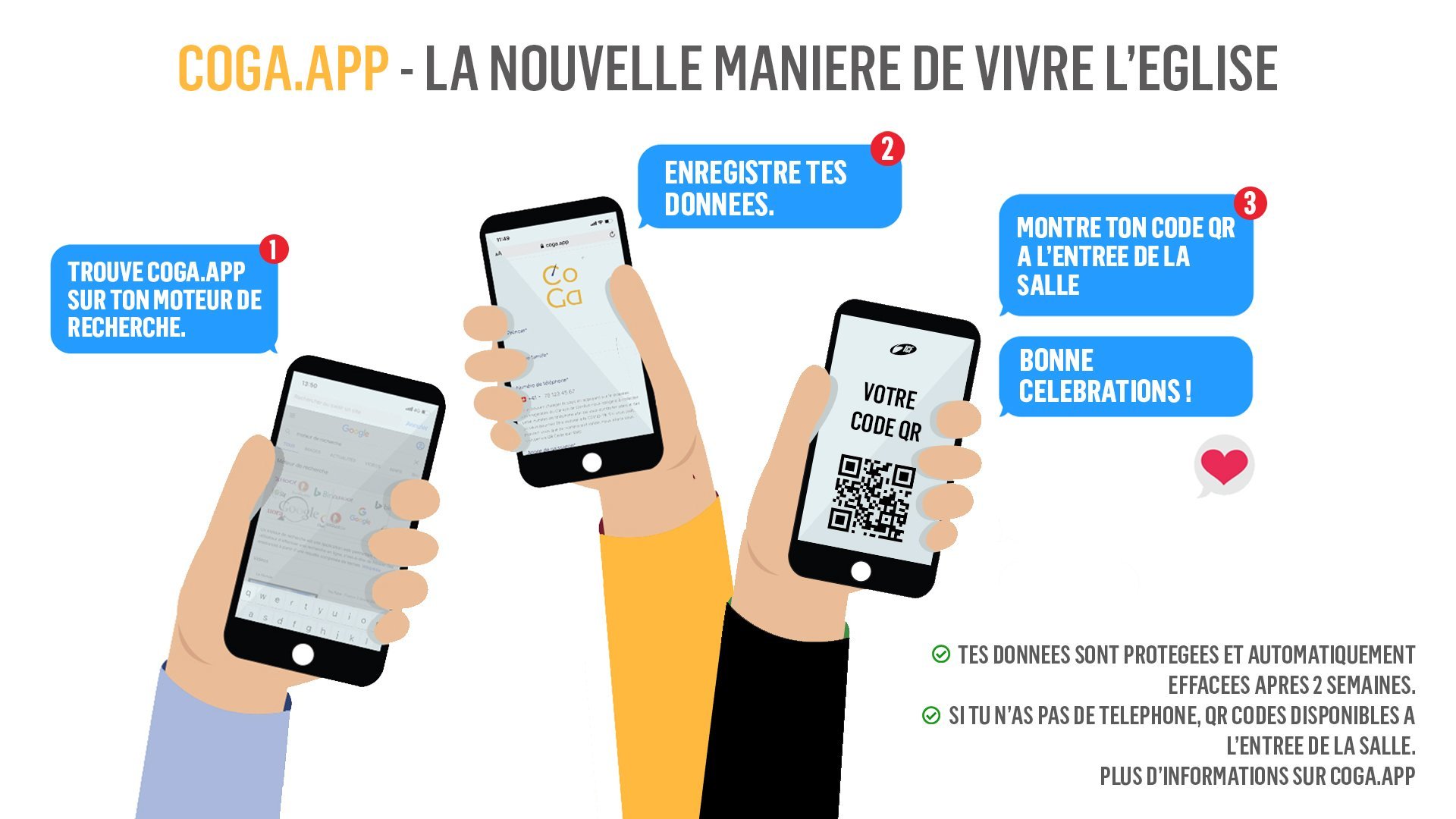 Our security measures
For the celebrations to go as smoothly as possible, we count on a collective effort and the participation of everyone to ensure compliance with the various measures in force. These measures will be communicated as best as possible, by videos, documents and announcements on this site and during the celebration. Thank you for your help in encouraging and respecting them. Here are the main lines of these measures:
Important note: Distance, hygiene and tracing are the most effective means of combating the transmission of COVID-19.
Access to the 2 celebrations will be by using CoGa.app. This allows us to guarantee the number of people to be respected and traceability if necessary (these data will be kept for 14 days).
Come ¼ hour before the start of the celebration, 30 minutes before to register the children (check-in at the UOG: 9.30-9.45 am).
Wearing a mask is compulsory upon entering the establishment, until leaving.
Vulnerable people: we encourage you to take care of your health. You are free to decide whether or not to come to the celebration.
If you have symptoms, don't come to church.
The arrival times of the various churches in the center have been adjusted to avoid large flows and crossings of people.
Disinfectants will be made available at the entrance to the center, the room, and in the toilets.
Signage for the instructions to be observed will be displayed in the center as well as certain markings on the ground.
The room is set up in such a way as to respect the rules of distance between people or groups of people living under the same roof.
The celebration is adapted to meet the standards of the OFSP.
A cleaning is done before and after each celebration.
The exit is via the emergency exit to avoid crossing with other groups.
For ICF Kids, a measurement plan has also been drawn up to OFSP standards (see section ICF Kids).